BREWS ON FIRST TICKETS ON SALE NOW!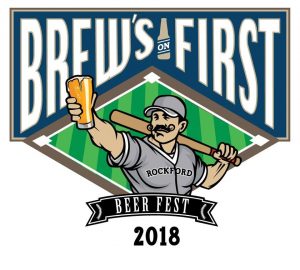 A festival taking a swing at a new twist on the ballpark & craft beer festival experience. Sample some beers that are sure to be a home run, while playing some ball at the park, and tasting twists on ball park food prepared by some of the best local restaurants as part of this event.
A Twist on Ball Park Food by Abreo Restaurant, Lucha Cantina, The Olympic Tavern, Der Rathskeller Rockford and more!
Tailgating area will be available starting at noon! Games, grilling and more… Bring Your Tailgate Gear to PreGame the fun.
Special Beer Releases on the hour and the bases starting at first base and head your way around the bases home.
Get to go out and play on the Field and hit/kick some balls with a wiffle & kickball home run derby. There will be multiple ways to win prizes!
This is not just another beer event, this is an event for the (21+ Kids in all of us). Sample some amazing beers, play ball with some friends and experience some amazing twists on the traditional ballpark food fare.
Tickets for Brew's On First at Rivets Stadium go on sale to the public at noon on April 2.