February Smash Beer project!
February 19 at 1 PM – 8 PM
2814 Stinson St, Poplar Grove, IL 61065-8249, United States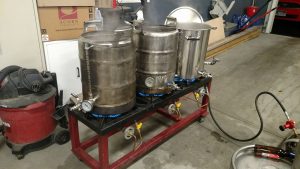 Joe and I have put together a Smash IPA project for the record books. We will be doing no less than 10 different hop varieties for this very special brewers guild. Farmhouse has donated 40oz.(10-4 oz packs)of hops for us to use. Monday,
We are looking for brewers for this event. Everyone involved will be using the provided wort and boiling 5 gallon batches. Using the hops provided by farmhouse to produce a smash IPA. We will also be providing the yeast. The beer will be fermented in Jeff's fermentation room. So you will need to bring you fermenters with.
Who is in and how many gallons do you want to brew?
Only RSVP if you are going to be a part of this Project!!!
Everyone please keep in mind that this SMaSH beer cannot be on the "Open Table" or the "Style Table" for voting. per the guidelines for 2018