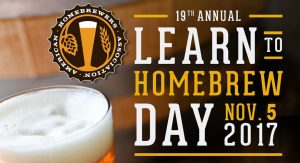 Join other FCBers at Mike Coisman's place for a fun AHA event on SUNDAY NOV 5, 2017 located at 1409 Iles Ave, Belvidere, IL 61008 >> MAP
Mike will be brewing a Sweet Stout and Tim will be brewing a Russian Imperial Stout. Hmmm…FCB does Dark Lord Day? This shindig kicks at 10:00 am – bring whatever you wish to share with the club…hopefully home-brew since that is what we do! #drinkitup
The American Homebrewers Association is offering a free copy of Brewing Classic Styles to anyone who joins the AHA or renews their membership as a result of attending your LTHD event.
SUBSCRIBE Here to get the free book!
A little history for you on this national event:
Learn to Homebrew Day (LTHD) was established by the American Homebrewers Association (AHA) in 1999 to encourage homebrewers to introduce their non-brewer friends and family to the most rewarding hobby, obsession and lifestyle since the beginning of time!
See all AHA LTBD Events in the USA and historical facts: https://www.homebrewersassociation.org/aha-events/learn-to-homebrew-day/aha-lthd-events/