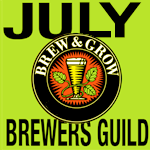 It's always good to brew off a summer picnic hangover!!! The FCB JULY Brewer's Guild will happen on Sunday July 23 at Brew and Grow in Rockford. Tim Lundquist will be brewing an English Barleywine. Also for a BONUS, I will be demonstrating how to do a Parti-gyle or 2nd runnings beer. The Second runnings beer will an Extra Special Bitter!!! Hope to see you there!
Alex will have some very limited special limited release brew and grow beer on tap. Seriously you can only find this beer at Brew and Grow.
SUNDAY JULY 23
10:00 a.m. – 4:00 p.m.
Brew and Grow
3224 S Alpine Rd, Rockford, IL 61109 – MAP